This week we are lucky enough to have Jennie Wilson for our look of the week! Jennie works with me at Beacham & Company, and she is best friends with last week's Look of the Week, Elise Baumann. It's been such a pleasure having her at Beacham, and she's been a wonderful addition! She and her husband have the sweetest little red headed boy named Colin. Jennie also works at Poppy's, which is a boutique here in Atlanta. She always looks perfect!
As I've gotten to know Jennie, I learned how much she loves reading blogs. As a blogger, I really appreciate people who enjoy what we do! Jennie uses blogs for outfit inspiration and to learn about current sales and trends. Read below to find out which blogs she loves and which Instagram accounts she follows. I've followed about 10 new people in the past hour based on her recommendations! Thank you Jennie!
Name: Jennie Wilson
Job: Assistant and Realtor for the amazing Skogstad-Sodemann Team at Beacham & Company, REALTORS.
Typical Day: I always start my day with a large Coke from Chik-Fil-a. I don't drink coffee so its my version of coffee. I drop off my son Colin and head into the office. I first make sure there aren't any fires that need putting out or igniting :). Then it could be anything from drafting offers, to answering emails, to meeting vendors, to scheduling showings, to combing the computer for houses. Every day is different which I love.
What three words define your style?
Jeans, boots, blazer. I am a creature of habit and this has been my go to outfit since college (when I finally I didn't have to wear a uniform to school and could pick my own clothes :). I have over…. 50 pairs of jeans. (I can't believe I am admitting that in public) probably at least 20 to 30 jackets/blazers and a lot of boots. I live for Fall because this is when I can wear my favorite items. I actually sometimes try to wear jeans and jackets in the summer but this has become difficult since having a kid and being HOT all the time. I just think you can't go wrong with these three items. You can be ready for work or running around with the munchkin or a night out.
What are your three favorite blogs to read for fashion tips?
One of my all time favorite blogs is Designer Bags and Dirty Diapers. It is written by a mom of two in Charleston, and I swear if she lived here, we would be BFFS. I love her clothing picks (and have bought things from her recommendation) and her sense of style. She is 90% of the time in jeans and a cute top which is my favorite. :).
Another favorite is whowhatwear.com. This one is really well known and more of an online magazine but it is ALL fashion focused. They have everything from "What to wear with your black jeans" to "How to make distressed jeans office appropriate" (see the theme here :). I want info on fashion and clothes. I am not a big "beauty" or "make-up" person. I just want to know about the clothes :)
I also follow a TON of fashion blogs predominately on Instagram. They tend to be more "outfit inspirations" (pics of cute outfits) which is what I really want without all the additional stuff I don't like recipes - I am a horrible cook and don't want to read about your favorite cookie recipe because inevitably if I try to do it, it will be bad. Ask Elise :). They include @apinchoflovely @jscott24 @merrittbeck @fashionablehostess @styleunder40 @bishopandholland @shalicenoel @kattanita. They were all in New York for fashion week last week, and I am SOO jealous. One of my bucket list items is to go to Fashion Week
Where do you shop for clothes in Atlanta?
I am a bit spoiled because I work at Poppy's (come see me on Fridays ;) so I would say about 75 to 80% of my clothes are from there. But I am also a HUGE bargain shopper. I live for places like Nordstrom Rack, Lohemanns (when it was in business), Marshalls, etc. I have picked up some FABULOUS bargains in my search for a sale. I also LOVE LOVE Nordstrom.
What your favorite hotel you've ever stayed in and why?
The Halekulani Hotel in Honolulu Hawaii. Waikiki Beach is like Miami with hotels every three feet. But at the Halekulani, you literally feel like you are the only hotel on the beach (which if you have been to Waikiki is pretty unbelievable). We stayed there last April for a wedding and it felt like heaven on earth. (Photos below from this source).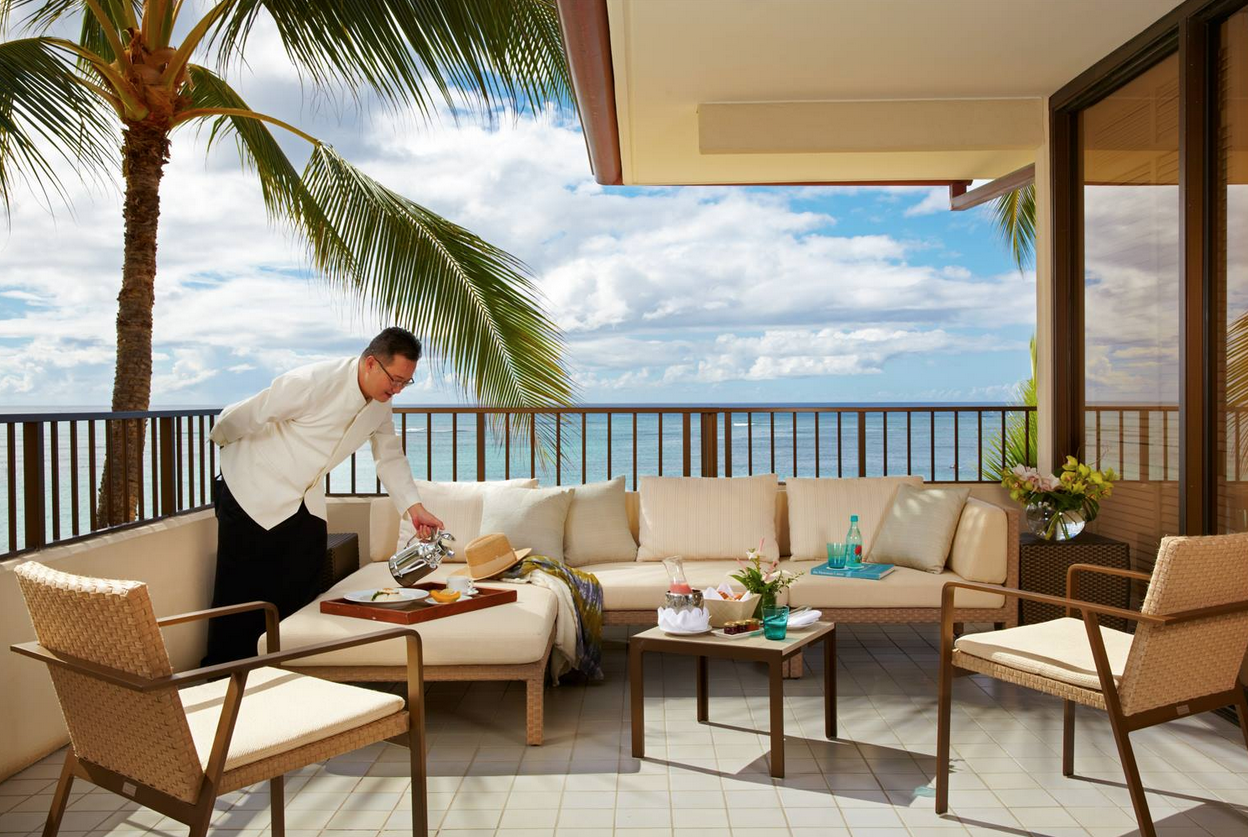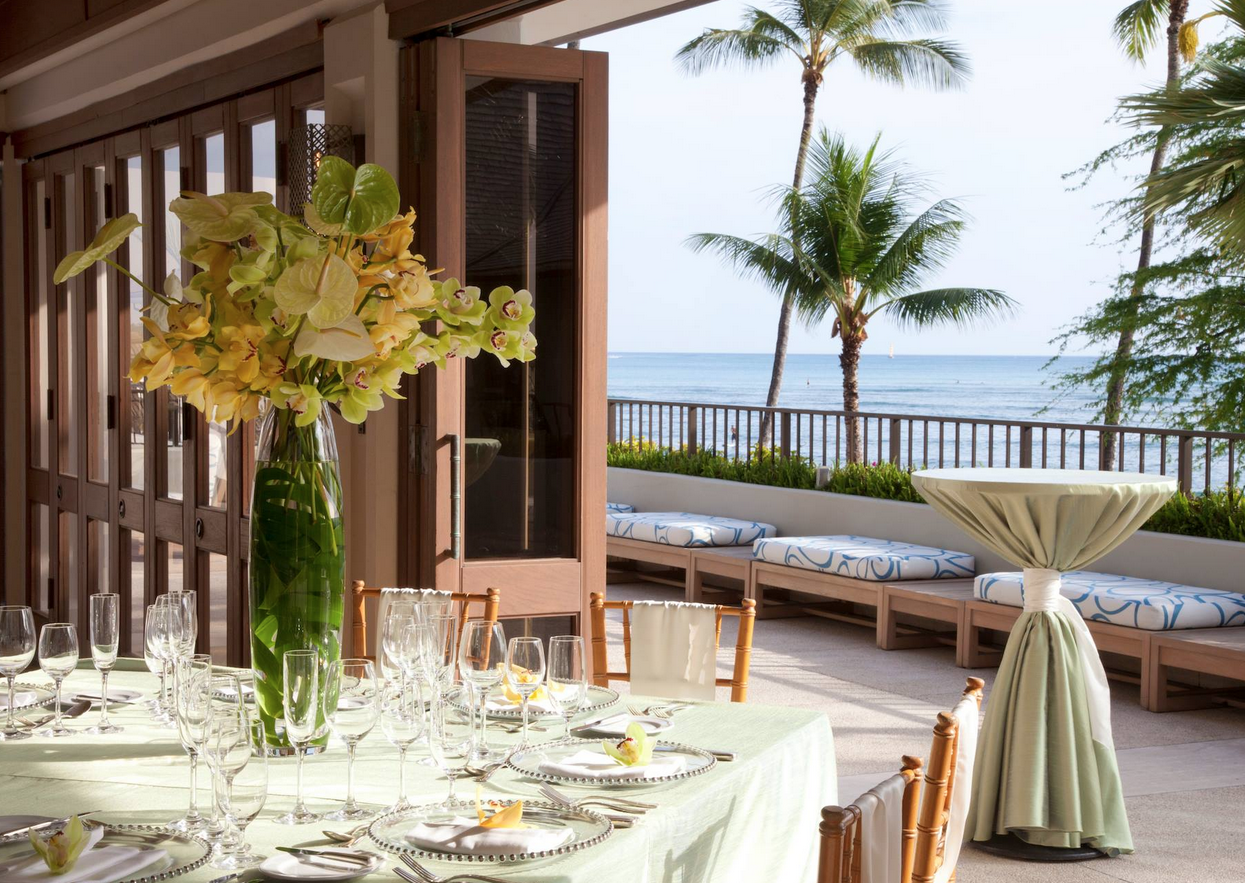 Where do you buys clothes for your son?
Now that he is older, most of his clothes are from Baby Gap. Cute boy stuff is HARD to find. Its either a smocked or more fashion forward than my clothes… I probably dress him super preppy, but Baby Gap has the cutest jeans, khakis, and button ups. I know soon he is going to be in gym shorts and t-shirts ALL the time so I am taking advantage while he still lets me dress him.
What are your favorite websites for clothes shopping?
Piperlime.com and Nordstrom.com. I can generally find anything I would want between these two websites. Since becoming a Mom I find myself online shopping A LOT more. But nothing beats for me just going shopping by myself either at the mall or anywhere even. Its therapy for me. :)
Where is the best place to go to lunch or dinner with a young child in Atlanta?
Good question! My poor child has been dragged everywhere by my husband and I. I would have to say as long as there are crayons anywhere. We've totally been that couple and even taken him to Canoe…
What are you most looking forward to this Spring?
I would be lying if I didn't say spring clothes. I don't get as excited about Spring as I do fall but every new season brings new fashion which I undoubtedly love. I'm also super excited about the longer days and warmer weather so I can get my son outside. He's at the age where he needs to run and play and its hard when its so cold or dark at 6:00pm.